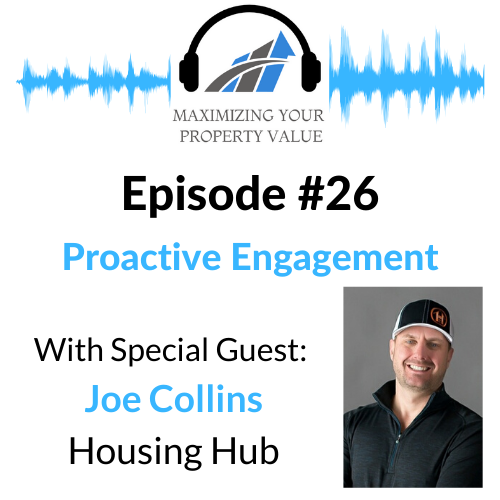 Joe Collins is the CEO of Housing Hub Property Management and Real Estate. Joe has been investing In Real Estate for over 25 years, getting his start at 19 years old. During the last 25 years He has acquired close to 900 units and has been involved in many flips, rehabs and value add investments.
During Joe's career he has seen everything that could go right and wrong with property ownership. The most challenging was the housing collapse of 2007. Joe made it through the downturn coming out stronger than ever. In 2013 Joe and his business partner created Housing Hub to offer their experience to owners trying to navigate the challenges that property ownership brings. Their skills have been tried and tested.
Housing Hub is continuing to add staff and adapt to the many changes of this fast pace business. To date they have added 900 units from 3rd party owners. They continue to grow and Housing Hub is blazing a trail and becoming the best in property management.
===
Like what you're hearing? You can WATCH this episode on YouTube: https://www.youtube.com/playlist?list=PL9p74LHu4dBet3Htypyan24kM7k62OuIh
You can also check out the latest blog post at www.realestatestiles.com/blog
===
Mark your calendars and plan to attend the premiere real estate gathering in the midwest. The Northstar Real Estate Conference will be held on April 24-25 in Bloomington, MN and you do not want to miss it.
Use promo code "stiles" for $100 off your 2-day ticket.
www.facebook.com/NREConference
www.instagram.com/nreconference/
https://www.linkedin.com/company/31463542
https://www.youtube.com/channel/UC8hcpZZQWCsQHnu7P1YlGpA
===
Have a question about property management or real estate investing? We want to hear from you. Submit your question in video format and if your question is featured on one of our future shows you could receive a free gift! Please keep your question under 60 seconds. It is preferred that you share the video by uploading it to YouTube and sending the private link to us using our contact page: http://www.realestatestiles.com/contact/
===
Are you wondering what your property is worth in today's real estate market? Download my free e-book that will help you calculate your property's value! http://www.realestatestiles.com/value/
===
John Stiles is a licensed MN real estate agent with Bridge Realty.